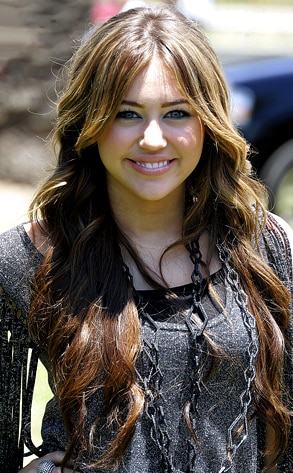 The Twitter gods giveth, and the Twitter gods taketh away. Unfortunately, not even the advent of the "
black Svengali
" can
make up for the disappearance
of Disney's biggest princess.
While the world continues to mourn the loss of Miley Cyrus' online overshares, no one appears to be more devastated than her own father, whose heart (but not typing fingers!) is positively achy-broken over his daughter's sudden boyfriend-enabled exit from the microblogging site.
And rather than pick up a phone or attempt—gasp!—face-to-face contact with the superstar fruit of his loins, he instead opted to rally the troops and lead the peer-pressure charge to get Smiley back online.
"Miley. You are a light in a world of darkness," Billy Ray tweeted yesterday. "You were born 'Destiny Hope Cyrus' for a reason. You can't leave everyone now. We r countin on u."
Well, at least we know he's not putting undue pressure on the kid. Now who can the world turn to for their fill of @ replies and RT wisdom? Oh, that's right.
Still, while we can't be totally convinced that daddy dearest's increasingly perspective-losing tweets aren't fueled by the fact that there's a new, apparently more influential man in town, her other supporters' entreaties reek of a little more selflessness. But only just.
"I can't help but find myself asking the question 'What would Miley have tweeted about this?' " John Mayer, who never met a trending topic he didn't like, pondered last night.
Still, Cyrus' Hannah Montana costar seems to be among the few twitterers not joining the rally for her return (though it may be more a case of out sight, out of mind, as #mileycomeback has already fallen out of the top trends).
"P.S. @mileycyrus, I will miss u on Twitter," Mitchel Musso tweeted yesterday. "Updates R cool when friends R far away!"
"A lot of U R asking about @MileyCyrus," he added later. "What's best 4 Miley is that She is Happy & Safe. We don't walk in her shoes, we just Love her!"
Maybe he could have a word with Billy Ray on keeping things in perspective.
"I understand 'it is true one bad apple spoils the bunch,' " the mullet-reformed papa implored his daughter. "But listen to the words of your songs 'Stand…for what ya believe in'…Remember?"
Or maybe, just this once, sit down and keep shtum.
Unfortunately, it looks like Miley may be taking dad's advice: Sources tell E! News the teen is planning to either tweet (OMG!) or post a statement to her official website "within the next few days" further explaining her Twitter exit.
The world waits with bated breath.
Source: eonline.com