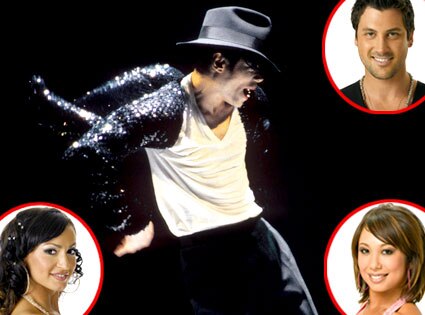 Hey, remember earlier this summer when
Michael Jackson
died and
So You Think You Can Dance
producer
Nigel Lythgoe
asked
Janet Jackson
's old choreographer
Paula Abdul
to participate in a Jackson-dance-tribute episode of
SYTYCD
, but then someone Jackson lackey put the kibosh on the whole thing?
No, you don't remember? Well, that happened, and at the time of the rejection, Lythgoe told reporters, "We put the music through to Sony and said, 'Sony, can we clear this music?' Yesterday, we got a note back—whether it's Sony or the [Jackson] family estate, I don't know—but they would not clear the music for us. It's very sad...for some reason, we can't do the show."
Well, it turns out that the kibosh was just temporary, because next week another popular TV dance series, ABC's Dancing With the Stars, is putting on a show dedicated to Jackson's fancy footwork. Read on to find out why Jacko's team went with DWTS instead of with SYTYCD (the show that totally called first dibs!) and why that was the wrong call...
Even though they threw over SYTYCD earlier this year, the decision makers in charge of Jackson's estate have granted permission for ABC to use three of Jackson's songs in a Dancing With the Stars tribute to the performer, set to air next Tuesday, Oct. 20.
All of the season nine DWTS professionals, including Mark Ballas, Cheryl Burke, Maksim Chmerkovskiy, Anna Demidova, Tony Dovolani, Chelsie Hightower, Derek Hough, Kym Johnson, Alec Mazo, Jonathan Roberts, Lacey Schwimmer, Edyta Sliwinska, Karina Smirnoff, Anna Trebunskaya and Louis Van Amstel, are set to participate in the tribute.
But here's the thing: So You Think You Can Dance would have done a better job. The DWTS professionals are almost all trained in ballroom dancing but don't necessarily have any experience performing anything resembling Jacko's unique and eclectic style. Meanwhile, SYTCYD features Wade Robson, who is universally acknowledged as Jacko's dance-floor heir apparent. SYTYCD has the previously mentioned Paula connection (by way of singing corporate cousin American Idol). SYTYCD is a better freaking show, with better production values, better direction and better stagecraft. To be perfectly frank, the SYTYCD kids are also younger and cooler than the folks on DWTS, and therefore more in touch with the spirit of M.J.'s best work.
Yes, DWTS has higher ratings, and that's no doubt why Jackson's reps chose to grant performance rights to Stars, but we're damn sure that if Jacko were alive today, he'd be hiring his backup dancers out of the SYTYCD troupe before he even glanced sideways at someone from DWTS.
Think DWTS is the perfect place for a Jackson dance tribute? Think our preference for SYTYCD over DWTS is snobby, stupid, unfair, partial and inappropriate? Well, we have a comments section, and you know what to do with it...
Source: eonline.com