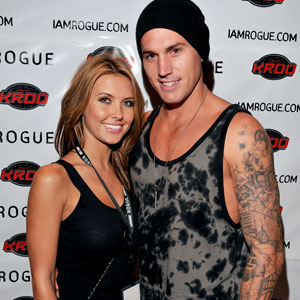 Listen up, gentlemen!
Audrina Patridge
is available.
She and Aussie BMX racer Corey Bohan's two-month romance is dunzo.
"Yes, she is single," Patridge's rep tells me.
This isn't the first time Audrina and Corey have broken up. They briefly dated in 2008, and he even appeared in four episodes of The Hills before they reunited this summer. No word on what did them in this time around.
Patridge, 24, was solo at last night's Auto Club Speedway's Pepsi 500 party at the Hollywood Roosevelt Hotel, where she talked about her final days on The Hills…
Things haven't really improved between Audrina and Kristin Cavallari—and they probably never will. "For the show, we'll probably have to sometimes be friends or whatever, but outside of that, who I really hang out with are not those type of people like Kristin," Audrina said.
No surprise, but Audrina doesn't expect any of the Hills regulars to be making any appearances on her upcoming self-titled reality show.
"The whole tone of the new show is going to be entirely different," she said. "It's just like me and my family and my life and Hollywood—my normal life."
Source: eonline.com