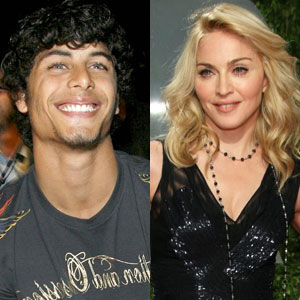 Talk about dinner under the stars.
Madonna and her much younger hottie boyfriend, Jesus Luz, were spotted just the other night having dinner at Mr. Chow on 57th Street in New York City with Penélope Cruz and her maybe-fiancé Javier Bardem.
And that's not all. Eva Mendes also joined them for the evening.
So what did the group enjoy (besides the company)? Chicken satay and Beijing duck. While most of the group sipped adult drinks, Cruz appeared to be having an alcohol-free night. "They were loud and laughing," an eyewitness tells us.
They wrapped things up after about two hours.
What other celeb couple scoop do we have for you? Read on for dish about Mel Gibson and his baby mama as well as newlywed Mandy Moore's plans for kids…
CITY SLICKER: Mel Gibson, having dinner at famed steakhouse Peter Luger in Brooklyn, N.Y., with pregnant singer-girlfriend Oksana Grigorieva. "A family of tourists was at a table nearby and the three young daughters came up to his table for autographs," an eyewitness says. "He was very nice."
KIDS R US?: Mandy Moore, telling us at the opening party of L.A.'s Madison & Diavolina boutique that she and hubby of seven months, Ryan Adams, plan on having kids. "Life is good," she said, adding, "I'm sure somewhere down the road, somewhere in the future…it's in the cards for us."
McSHOPPER: Eric Dane, picking up some groceries at Bristol Farms in Beverly Hills.
HANDY MA'AMS: Anne Hathaway and Audrina Patridge, getting manicures and pedicures (separately) at Recess-LA Nail Spa in West Hollywood.
FRANCY PANTS: Cold Case star Kathryn Morris, getting her hair done at Prive Salon LA by stylist Kareen Boursier, for a photo shoot for French magazine Télé 7 Jours.
THAT'S AMORE: Michael Bolton, getting a standing ovation by singing in Italian at the Alfred E. Mann Foundation Gala in Santa Monica, Calif.
ASIAN PERSUASION: Nicollette Sheridan, dining with a mystery man at New Asian restaurant Sunda in Chicago.
RETAIL THERAPY: Gossip Girl's Jessica Szohr, shopping at The Limited pop-up shop in NYC's SoHo area.
WORKING IT OUT: Kim Kardashian, doing an early morning workout session at Barry's Bootcamp in West Hollywood.
HIPPIE CHIC: Ciara, shopping at Intermix in West Hollywood, sporting a pair of Robin's Tie Dye Jeans.
GIRL POWER: Mary J. Blige, performing at the New York Women's Foundation's Stepping Out & Stepping Up event.
STYLE SPLURGE: Melrose Place's Katie Cassidy, shopping at L.A. boutique Intuition.
AFTERNOON DELIGHT: Jamie-Lynn Sigler, enjoying a leisurely lunch of chicken satay with a girlfriend at Philippe West Hollywood.
COMING UP
DO-GOODERS: Joel Madden and Annalynne McCord are among those being honored for their charity work at the Noble Humanitarian Awards on Sunday at the Beverly Hilton in Beverly Hills.
—Reporting by Dahvi Shira and Aly Weisman
Source: eonline.com