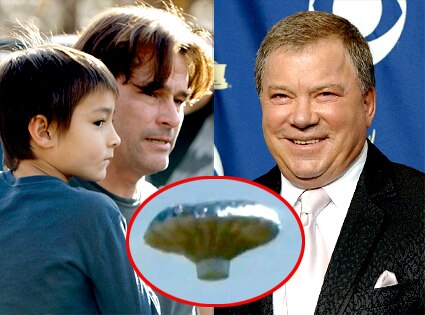 We're not sure if anyone was in cahoots with the Balloon Brood, but we're starting to get a long list of those people who aren't, right
William Shatner
? What do you say,
Jimmy Kimmel
?
With the local Colorado authorities on the hunt for possible coconspirators—including those with a Hollywood pedigree—in what they claim was a major publicity stunt gone way wrong, people can't distance themselves from the Heene family fast enough.
Those about-facing from the Heenes include Britain's RDF Media, a television production company that confirmed to E! News it was once working with the Heene clan on a possible reality show, a connection RDF now adamantly claims was long dissolved prior to Balloongate.
"At one point in time, we had a show in development with the Heenes," a company rep said.
Had being the operative word.
"We are no longer in active development with the family. Like everyone else in America, we were stunned and held our breath while the events unfolded, and like everyone else, we are extremely thankful for the fact that Falcon is safe with his family."
It's RDF that first loosed the family onto the unsuspecting airwaves, thanks to the company-produced Wife Swap, on which the Heenes appeared in March.
Among those also not working with the Heenes...
TLC, which obviously has experience with nonexemplary parental figures.
The family-friendly cable net was one of the outlets Richard Heene pitched his would-be reality show to prior to launching his Jiffy Pop contraption, but a rep says TLC ultimately passed on the idea.
And not a moment too soon.
Same goes for the creator of Extreme Makeover: Home Edition. Relativity Real CEO Tom Forman tells TMZ that Heene pitched his reality-show idea to him a week after talking to TLC—yet the "liar" swore that he was giving Forman first dibs.
Meanwhile, William Shatner has no interest in boldly going where no celebrity has gone before—into business with Heene.
"His story is overblown," the Emmy winner told E! News about a supposed conversation he had with Heene about hosting a show. "He's inflated the amount of contact we've had."
Heene's former video editor, Vincent LeGrow, had said that the two men spoke. The storm chaser produced an instructional video for kids in 2001 about building forts out of cardboard boxes and, according to LeGrow, Heene had grand aspirations for his fledgling production company.
A rep for Jimmy Kimmel also confirms to E! News that the late-night host met with Heene to discuss a TV project about storm chasers in 2006.
"He begged for money from Jimmy Kimmel," Heene's former business partner, Perry Caravello, tells E! "We all sit down in Kimmel's writing room and Kimmel listened to him for less than five minutes and then said, 'You know what? There was somebody else I had a meeting with who had something similar to what you have going on and I gave them $2,500 for putting my name on their rocket. Have a nice day.' Kimmel knew he was full of b.s. and that it was something stupid."
It also looks like the Heenes shouldn't expect any muffin baskets from the neighborhood association anytime soon.
"They probably will have to move," a neighbor tells E! News. "No one is going to hire him for jobs now. A lot of people are really mad at him. They don't have a lot of friends."
Heck, even the ACLU isn't touching this one, with the organization issuing a statement today refuting a misstatement by Larimer County Sheriff Jim Alderden that it was representing the Heene family.
Source: eonline.com