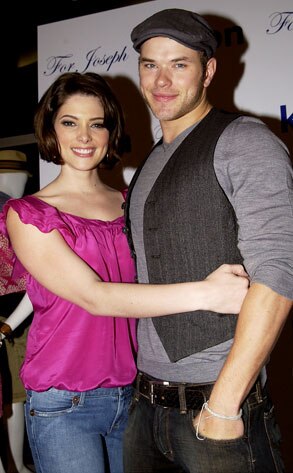 Selena Gomez
is definitely not the
only celeb these days into
singer-songwriter
Jason Mraz
.
One of our spies spotted Twilight stars Ashley Greene and Kellan Lutz on Wednesday night at the "I'm Yours" hitmaker's concert at the GM Place Arena in Vancouver, where our fave vampire movie franchise is filming Eclipse.
"They were watching the show from the soundboard area," the eyewitness reports. "Toward the end of the show, Jason and a couple of guys in his band went out on a small stage and did a few songs right there at the soundboard so the [people in the] back of the arena were able to see him up close."
After the show Greene and Lutz hung out backstage, as did Friday Night Lights star Scott Porter.
Who are some of the other boldfaced names we've recently seen here, there and everywhere? Read on for deets about Kate Hudson, Audrina Patridge and the always fashionable…
SHADY LADY: Rihanna, wearing Jee Vice Red Hot sunglasses while hauling luggage through JFK airport.
ICE, ICE BABY: Paris Hilton, trying on jewelry and nibbling on cotton candy at the Candy Ice jewelry launch at Prego in Beverly Hills.
DESIGN TIME: Cheryl Burke, mingling and drinking "MOD-tinis" at the Matters of Design VIP event in L.A.
COVER GIRL: Audrina Patridge, celebrating her Maxim magazine cover with friends and family at Hollywood's Bardot nightclub.
COCKTAIL TIME: Kelly Rutherford, sipping on Martini & Rossi sparkling rosé while shopping at the W New York for the Step Up & Step Out charity event.
MATERIAL GIRL: Kate Hudson, browsing the racks at Eryn Brinié's global flagship store in NYC's SoHo area.
TOUCH UP: Shannen Doherty, getting her color done by Adam Scheib at Privé Salon in L.A.
KID AT HEART: 90210's Jessica Lowndes, checking out the Art of the Disney Princess showcase at Zune L.A., where she left with a gift bag full of Disney Couture goodies.
BURNT OUT: Mel B, using a SmokeStik instead of a cigarette, while dining at the Mayfair Hotel in London.
MAKE IT WORK: Project Runway guru Tim Gunn and Melrose Place returnee Laura Leighton helping kick off National Domestic Violence Awareness Month at the Marshalls Shop 'Til It Stops event in Santa Monica.
COMING UP
PHIL IT UP: Rachel Griffiths, Dana Delany and Sophia Bush will celebrate the new season of the Los Angeles Philharmonic on Oct. 8 and toast new music director Gustavo Dudamel at the Walt Disney Concert Hall.
Source: eonline.com