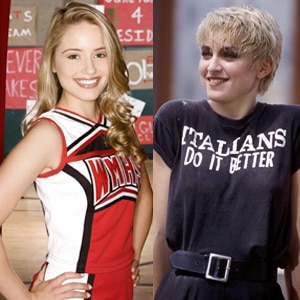 When
Dianna Agron
told us recently that she was going to be singing a
Madonna
song on an upcoming episode of
Glee
, our first hunch was "Like a Virgin."
After all, she does play pregnant high school cheerleader Quinn Fabray.
But we were wrong…
We're told that Agron will be covering that other very appropriate song "Papa Don't Preach," Madge's classic tune from 1986 about a young woman telling her dad that she's expecting a baby that she intends to keep.
Agron didn't want to give too much away, but she did gush, "When do you stop listening to Madonna? I went home for Thanksgiving last year and we had a bunch of family friends and family over.
"Somebody put on a string of three Madonna songs and the boys were more into it than the girls," she continued. "It was hysterical, like something out of a movie."
Or out of a TV show.
We also broke the news to Agron that television impresario Joss Whedon will be directing an upcoming episode of Glee. "That's incredible," she said. "We were all jonesing for it. I think they had to find the time and the place…I'm so excited."And so are we.
Source: eonline.com