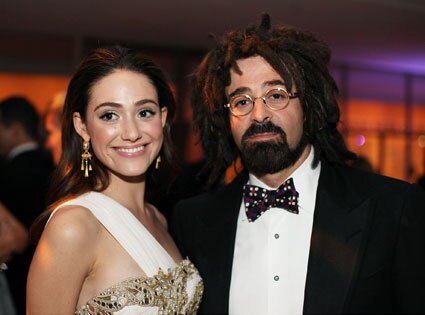 Counting Crows
frontman
Adam Duritz
gets some seriously hot chicks.
With rumored ladyloves that include Jennifer Aniston, Mandy Moore, Courteney Cox, Michelle Branch and now Emmy Rossum, and looks that are hardly Clooney-esque, we can't help but wonder about his game. Does the 45-year-old study the Mystery Method or something?
The crooner's date to the American Ballet Theater fall gala in New York last week attempts to explain the attraction.
"I get why chicks dig him," Rossum tells People. "He's extremely kind, incredibly intelligent, thoughtful, creative and respectful."
Of course, the 23-year-old Phantom of the Opera starlet still plays coy on her romance with the "Mr. Jones" man, but that's not a surprise—she's in the middle of a divorce from a husband we didn't know she had until a few months ago.
"I don't discuss my love life because it's always misinterpreted or put under the microscope," she says. "It's especially annoying when you're dating someone else who's well-known, which is why I normally would never go out with a famous guy…I really can't say if I'm available or not."
Source: eonline.com