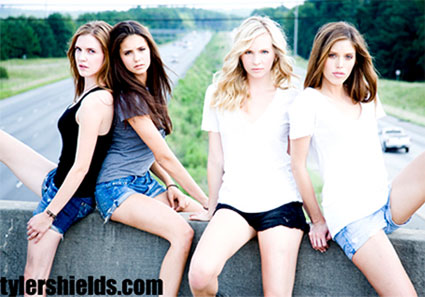 You're looking at some police evidence here.
E! Online has managed to get ahold of one of the photos that led to last month's arrest of four of The Vampire Diaries' lovely female stars.
Nina Dobrev, Sara Canning, Candice Accola and Kayla Ewell, along with photographer Tyler Shields, were deemed a traffic hazard and busted on the afternoon of Aug. 22 during an impromptu shoot on a Georgia overpass.
Per the incident report, the actresses were vamping it up on Rumble Road Bridge, striking a series of motorist-distracting poses, including straddling the railing and simulating being thrown over. They wound up paying a fine. Conveniently, news of the arrest broke the day after Vampire Diaries' hit premiere.
Do you find their vampy behavior distracting? Vote in our poll!
Source: eonline.com