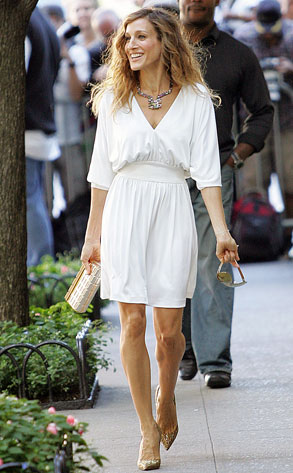 Not that we need any proof of
Sarah Jessica Parker
's status as a true fashion icon, but we're hearing she's in talks for a major endorsement deal.
A source reports that the Sex and the City star may be the new face of revived American fashion house Halston.
We don't know if a recent sighting of Parker filming the SATC sequel has anything to do with the possible partnership, but…
Earlier this month, SJP was photographed on set wearing a white dress from the upcoming Halston Heritage Spring 2010 collection.
Parker has had similar gigs with Garnier and the Gap. She also released her own fashion line, Bitten, in 2007.
And then there's her megasuccessful fragrance collection. In 2005, she released Lovely, followed two years later by Covet and then Dawn, Endless and Twilight earlier this year.
The second SATC flick hits theaters in May.
Source: eonline.com