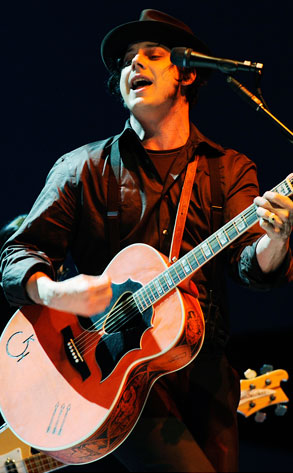 Even as the Toronto Film Fest winds down, there are still a few celeb sightings—not to mention the splendor and spectacle of the Cadillac People's Choice Awards. And did we mention the
Kanye West
weirdness?
Friday's highlight—a moment bridging the gap between music fans and movie fans—wasn't just the premiere screening of the rock 'n' roll concert documentary The White Stripes Under Great White Northern Lights at the Visa Elgin Theatre. The real capper came in the postscreening Q&A, as director Emmet Malloy answered a question from the audience about the inspiration behind the doc.
As Malloy talked about the genesis of the project, White Stripes frontman Jack White rushed the stage, snatched away the microphone and said, "Ima let you finish—but Orson Welles made the greatest movie of all time!"…even closing his "tribute" to Kanye with a perfectly matched shrug as the crowd roared.
The crowd also spoke on Saturday, awarding the Cadillac People's Choice Award—the one that last year took Slumdog Millionaire from obscurity to the Oscars. For the first time at Toronto, the People's Choice Award—the only prize given at the notoriously laid-back fest—had a separate slot for the Midnight Madness program of horror, action and weird comedy movies. The inaugural award went to The Loved Ones, an Australian mix of Pretty in Pink, Misery and Carrie that gives new meaning to the phrase "bad prom night" and had the audience shrieking with terrified laughter the night it debuted.
The grand prize People's Choice winner, though, was the Oprah Winfrey-produced Precious: Based on the Novel "Push" by Sapphire. After its star-laden red carpet premiere (as reported here, with Robert De Niro, Oprah, Mariah Carey and more), Precious apparently kept winning audiences over—and made history as the first film to win the audience award at both Sundance and Toronto.
The Oscars are a long way off, but with its win here, Precious has the inside track to be a Best Picture nominee. And if Precious wins, it'll be fairly obvious that a key act of that tale of triumph was written today at the Toronto International Film Festival.
Source: eonline.com