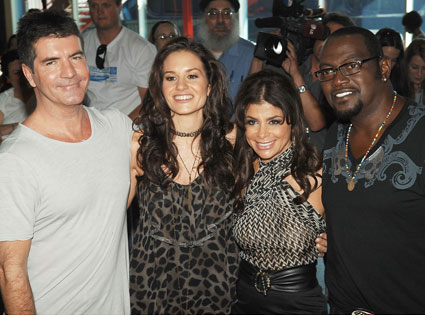 No longer the new kid on the block,
Kara DioGuardi
was more than happy to offer her expert opinion on
American Idol
's latest hire.
"I'm a huge Ellen DeGeneres fan," the "thrilled" songwriter raved during an interview airing Friday on Sirius XM's The Morning Jolt with Larry Flick. "I think she's going to bring so much to the show."
"She's somebody who loves music, she's positive, she loves kids...She is somebody who has watched the show from the beginning, knows everything there is to know about American Idol and I think ultimately it's going to be a great new energy."
So, how does DioGuardi feel now that the spotlight has shifted away from her, and what she meant for Paula Abdul's future on the show, to the actual future of the show?
"Oh my god, thank you!!...Oh god!!" she replied when Flick, a longtime pal, asked how happy she was to be off the hot seat.
"It was pretty hellish," DioGuardi admitted, referring to her eighth-season newbie status.
"Yeah, I got slagged," she said. "People were…it was difficult for them to accept the change. It was difficult for them to understand why somebody who nobody had ever heard of could kind of come out of nowhere and sit next to these iconic figures. You know, why was I there, what did I do to deserve to do to be there?"
"It will just be easier this year because I'm not as fearful as I was last year…For someone who's never been on live television it's very, very challenging to go from the back of the studio to the number one TV show, and that kind of visibility. And it was very, very, very scary."
Well, we know DeGeneres is kickass on live TV. But if DioGuardi's credentials were questionable (to non-industry folks) when she first showed up...
What are fans going to say in January?
Randy Jackson agrees with DeGeneres' interpretation of why she's a good addition to the show—she represents your average, albeit abnormally funny, listener.
"There's so much music industry insider talk with me and Simon and Kara that I didn't think we needed any more of that," Jackson told People today. "Ellen hit it right on the head—I think she could be the voice of the people. It's like somebody in the home audience watching and going, 'What would I say?' Ellen's going to be saying it."
That, and she's "mad cool," he added.
Source: eonline.com