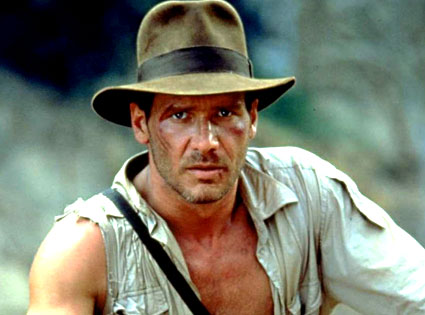 He's escaped snakes, Nazis, cults and, er, aliens. But can Indiana Jones survive jumping the shark?
Looks like we're going to find out.
Proving they can't leave their billion-dollar franchise well enough alone, Harrison Ford says that he, George Lucas and Steven Spielberg are thisclose to launching a fifth installment in the series, despite the mixed reaction to last year's extraterrestrial-happy Indiana Jones and the Kingdom of the Crystal Skull.
"The story for the new Indiana Jones is taking form," Ford tells France's Le Figaro newspaper. "Steven Spielberg, George Lucas and myself are agreed on what the fifth film should be about. George is actively working on it. If the script is good, I'll be very happy to put on the costume again."
Ford, now 67, made the remarks at the Deauville Film Festival, where he turned up with fiancée Calista Flockhart to collect a lifetime achievement award. He declined to discuss any plot details.
Back in June, Shia LaBeouf, who played Indy's son in the last chapter, told the BBC that Spielberg "just said that he cracked the story on it...and I think they're gearing that up."
We're just begging that they steer clear of any more ETs.
Source: eonline.com