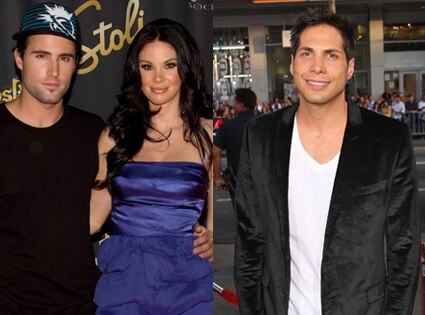 Brody Jenner
and
Jayde Nicole
aren't about to let
last week's brawl
with
Joe Francis
get the best of them.
"I saw both of them yesterday," their Hills co-star Lo Bosworth told us this morning. "They're both doing OK. They love each other so much, and the support of each other is going to get them through this."
She added, "They're taking it one day at a time. I really think everything's going to work out."
But we won't be reliving the Francis feud on any upcoming episodes of MTV's pseudo-reality soap...
"If we had been filming that night, then maybe we would show some of it on The Hills, but at this point, there's too much legal stuff attached to it, so it's not right for the show," Lo explained.
But Lo assures us that Joe Francis dramz aside, the upcoming season will be anything but tame because of the ongoing battle between Team Kristin and Team Audrina.
"I find myself kind of acting as a mediator between two different groups of people," Lo said. "I've known Kristin for years and she's my friend. And then I have [Stephanie Pratt and Audrina] who are like, 'Who is this girl? Why is she here?'"
Perhaps the gals can forget about their high school-like shenanigans, and join Lo in her work for childrens' literacy awareness. Earlier this week, Ms. Lo launched the 4th Annual Jumpstart's Read for the Record Campaign.