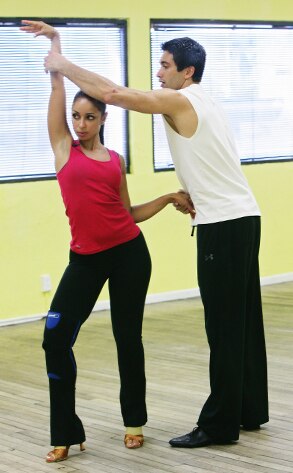 We would ordinarily tell the celebs participating in tonight's
Dancing With the Stars
kickoff to break a leg, but, well, we're worried they may be taking such well wishes a bit too literally.
"Went2the hospital late last night2get stitches," Mya tweeted today. "Deep cut from glass. Only caught 2hours of sleep but feel great. Must be adrenaline.
"Nothing to worry about," she continued. "Just an ugly slice on my finger—not the first time I've had stitches. I'll be just fine. Thanks4the concern."
An ABC spokesman tells E! News, "She's fine."
Mya has time to heal. She and partner Dmitry Chaplin don't have to perform until tomorrow night, when they will attempt to dazzle the crowd with a Viennese waltz.
Looks like any off-season exorcism didn't take. The DWTS stage has already seen Kathy Ireland and Tom DeLay dinged up. For those keeping score at home, that's curse 3, stars 0.
Source: eonline.com