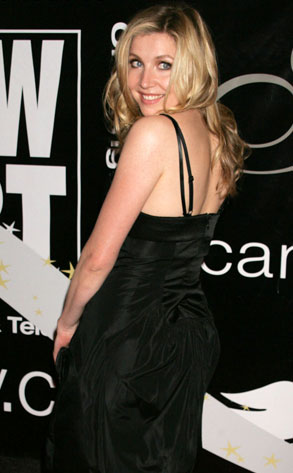 One of our favorite TV ladies is pregnant! Sources confirm to E! News that
Sarah Chalke
is going to have her first baby this winter. The kiddo's father is Chalke's fiancé,
Jamie Afifi
, an entertainment lawyer.
Chalke is probably best known for playing neurotic doc Elliot Reid on Scrubs, but she also recently starred in Lifetime's Maneater movies and did a stint as Becky No. 2 on Roseanne during the 1990s.
Chalke's Scrubs costar Judy Reyes (nurse Carla Espinosa) is also pregnant. Reyes is due in November.
Neither lady is expected to be a regular on ABC's new, reworked version of Scrubs, but we just talked to series boss Bill Lawrence and learned how Elliot and Carla could still be in the mix...
According to Lawrence: "[ABC president] Steve McPherson wants to keep [the new show] the Scrubs brand. [The new show] is a little like Paper Chase in a hospital setting. On Scrubs, we always said it was a teaching hospital, but we never really showed the teaching aspect of it. This year we built a college campus over at Culver Studios. It's a med school setting, and right across the street is the hospital, and when they're in the hospital, you'll see all of the familiar faces from the show, whether it be the attorney or Todd or Sarah Chalke or Judy Reyes or Ken Jenkins (Dr. Bob Kelso) or Neil Flynn (the Janitor), so we created a world in which the hospital still exists."
Scrubs regulars John C. McGinley (Dr. Cox) and Donald Faison (Dr. Chris Turk) are set to star full-time on the new series, while Zach Braff has signed on to do six to eight episodes of season nine as J.D.
Are you excited that Sarah and Judy are becoming moms? Are you looking forward to Scrubs: The New Class (actual title TBD)?
Source: www.eonline.com