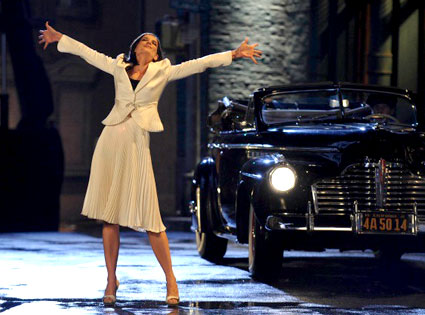 Katie Holmes
might have gotten "happy" on
So You Think You Can Dance
last night
, but the fans seem more than a little disappointed.
Our comments section is exploding with your less-than-complimentary thoughts about her lip-syncing, "prancy steps" and hat-throwing. You're not alone.
Shanna Moakler was downright angry with Mrs. Tom Cruise's Judy Garland homage, choreographed by Tyce Diorio.
"I am f---n INSULTED, Katie Holmes how dare you!" she wrote on Twitter. "I didn't just grow up on musicals, I lived and breathed them, Oklahoma, Easter Parade, Family Band, don't touch my legends! ur not worthy."
Yeesh.
The former Dawson's Creeker's pals, however, have been quick to stand by her side.
"Everybody has a right to their opinion, but what she did has to be commended," her Dizzy Feet Foundation pal Carrie Ann Inaba told E! News exclusively today at an event for Broadway's Burn the Floor.
"She went out there on a show that features some of the most incredible dancers we have in America, and she went out there to show her support for Dizzy Feet Foundation and her love of dancing. And I think that's completely courageous."
Unfortunately, the Dancing with the Stars judge couldn't give us her official ruling on the performance—she was on an airplane when the episode aired.
SYTYCD judge and executive producer, Nigel Lythgoe, is hopping mad at the negative reactions Holmes has received and is lashing out via Twitter.
"Why hate on Katie? She's had no dance training and did this for publicity for the charity. Everyone lip synchs when they're dancing," he writes. "I'm going to ban all the Katie haters. You make me sick. Your attitude stops 'stars' doing charity work. Understand why she did it CHILDREN."
As if the all-caps name-calling weren't enough, he calls one fan "ignorant" but then drives a very good point home with a clever analogy.
"I'm trying to figure out why Katie is being judged as a dancer," he says. "When a star throws out the opening pitch no-one says 'ooh crap pitcher!'"
Producer Adam Shankman isn't quite as outraged at the fans, twittering, "I think it's great that everyone has opinions, but be clear: Katie wanted to do something with the show for dizzyfeet foundation, but had to go to Australia to shoot a movie, so she had to pretape… Not very cool to cut her up for what she did, and when she did it."
At least one celeb enjoyed the stylized number.
"I liked Katie Holmes performance," wrote Jenna Dewan, star of the original Step Up dance movie. "I thought she did great!"
Feel free to step into Inaba's judging shoes and continue to sound off on the performance. How would you rank it, 1-10?
Source : www.eonline.com