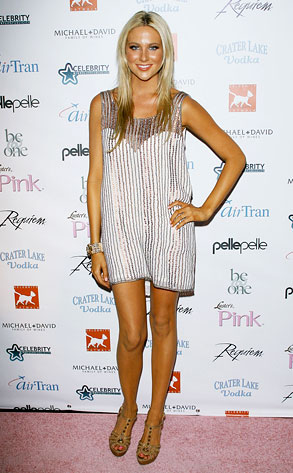 Stephanie Pratt
might not be the brightest bulb, but she could be pulling out a novel defense in her drunken-driving case:
Don't blame the booze, blame the shoes.
With The Hills star MIA from court today, it was up to her lawyer to enter a not-guilty plea on her behalf to a misdemeanor DUI count stemming from her arrest last month.
Pratt, 23, faces up to six months in the clink and a maximum $1,000 fine if convicted. Attorney Jon Bryant Artz told the judge she is willing to serve a 30-day stint in live-in rehab, to avoid driving until she gets a valid license and to refrain from drinking to remain free on her own recognizance.
Outside court, Artz told E! News that Pratt was really pulled over for her tinted windows and, "There's no impaired driving or driving that indicates she was under the influence."
He also implied the reason Pratt may have biffed a field sobriety test was because she was having a hard time negotiating the course in her 4-inch-heeled boots.
Prosecutors, however, don't subscribe to the stiletto hypothesis. They say Pratt took two breath tests, one of which registered a blood-alcohol level of .09, a tick above the state's legal limit of .08.
Even though Artz claims Pratt wasn't liquored-up as she drove away from a birthday party for Hills costar Holly Montag, he insists she's toning down her party-hearty ways.
"She's trying one day at a time to do the right thing in respects to her life and facing whatever issues she may have," says Artz. "She's taking this case very seriously, and she's taking the issue of alcohol very seriously."
However, he declined to talk about her plans for rehab.
Pratt herself said she was putting down the bottle while putting in face time at a Hollywood club.
"It was a blessing in disguise," she said of her arrest while attending an Undrest party. "From now on, I'm going to be abstinent. The past month and a half has been so amazing. I am doing good, and I don't want to change anything."
But when asked if she'd be interested in hooking up with Mothers Against Drunk Driving, Pratt demurred.
"I don't think I should because I did drive drunk...not drunk, but with alcohol in me," she said. "I don't think I am a great candidate for that. I think it is a great organization, but I wouldn't feel worthy enough to be a part of it."
Yeah, those PSAs aren't nearly as fun as The Hills, right, Steph?
Source: eonline.com