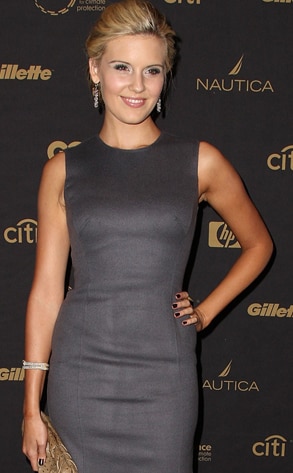 Update, 10:24 a.m.: An ABC spokesperson confirms that there is no deal in place for Maggie Grace to return to Lost at this time.
Poor Boone! Looks like he's still sisterless for the time being.
Despite recent reports that Lost's hottest bikini-wearer ever, Maggie Grace, is coming back to the ABC cult fave, I am now told exclusively that Maggie has not yet signed on to return for the final season.
A rep for the actress tells me: "It has not been confirmed that [Maggie] is returning [to Lost]. She has been asked, but nothing more than that."
So does this mean she is the Lost "holdout" I've been teasing for a few weeks?
Confession time: Yes, Maggie was the Lostie I was referring to when I wrote the blind item about a "holdout" among the original cast who had been offered a return to the series but had not accepted. Reliable inside sources tell me Maggie is the only original castmember who was asked a couple months ago to come back to Lost and opted not to return. (We know from Harold Perrineau himself that he has not yet been asked.) Multiple sources--including Maggie's rep--confirm that Maggie has not yet shot any new scenes for the final Lost season.
However, according to her rep, Maggie has a very good reason for not yet coming back to Lost: "She did three movies back to back to back and just got back from filming last Thursday."
Maggie certainly does have a lot going on these days on the big screen—she's playing Cameron Diaz's younger sister in the Tom Cruise flick Knight & Day, Adrien Brody's love interest in The Experiment, and she was just honored on Thursday by Variety as one of "10 Actors to Watch."
Still, something tells me I'm not the only fan hoping Maggie can clear some time in her busy schedule to return to Lost island. Or more accurately, I should say to Oceanic Flight 815.
(Psst...That's your cue to holler in the comments if you feel the same.)
Meanwhile, for those of you who've been asking why the awesome new Lost promo shows nothing of the new season: I'm told by insiders that producers have asked that not a single new frame be shown before the series returns. Not a one. Things are that hush-hush. And hopefully that good.
What do you think about Maggie returning or not returning to Lost? Comment below
Source: eonline.com